About Robertson Home Inspection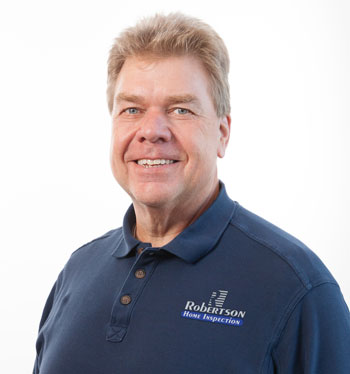 14 Years of Home Inspection Experience
Robertson Home Inspection is owned and operated by North Carolina licensed home inspector Von Robertson. Von started inspecting homes 14 years ago as part-time work on the side of his full-time career as a general contractor and home builder. For some time now, however, he has been inspecting homes full-time and enjoying the opportunity to help and educate each new client he works with about their home. His experience makes him a credible and reliable home inspector, and the service he provides exceeds what many other inspectors are capable of providing. Outside of work, Von enjoys spending time with his wife and daughter. He frequently helps out with his daughter's Girl Scout troop and 4H club. He is also a sports enthusiast who enjoys participating in AKC sports, such as dock diving, with his beloved rescue dog, Buddy.
Contact Von Robertson today to schedule a thorough and honest home inspection in North Carolina's Piedmont Triad.
Construction and Real Estate Background
Von's interest in homes began many years ago in 1986 when he began his career as a real estate agent. He stayed in this position until 1993 and learned about the buying and selling of homes during this time. Two years after leaving the real estate industry, Von decided to pursue a more hands-on career, and he became licensed as a general contractor. He has built over 100 homes and is still active in the building industry to this day. The experience helped Von develop an extensive knowledge of how homes are constructed, how their systems work, and what to look for when something in the home is going wrong. Not all inspectors have this deep of an understanding of homes, and Von enjoys sharing his wealth of knowledge with his clients.
Home Inspector Licenses, Certifications, and Memberships
North Carolina Home Inspector License #1729
North Carolina General Contractor License #35358
Member of the International Association of Certified Home Inspectors (InterNACHI)
Member of the North Carolina Licensed Home Inspector Association (NCLHIA)
National Radon Safety Board Certified Radon Professional
Member of the Better Business Bureau of Northwest North Carolina
Affiliate Member of the Winston-Salem Regional Association of Realtors
Member of the King Chamber of Commerce
Member of the Home Builders Association of Winston-Salem